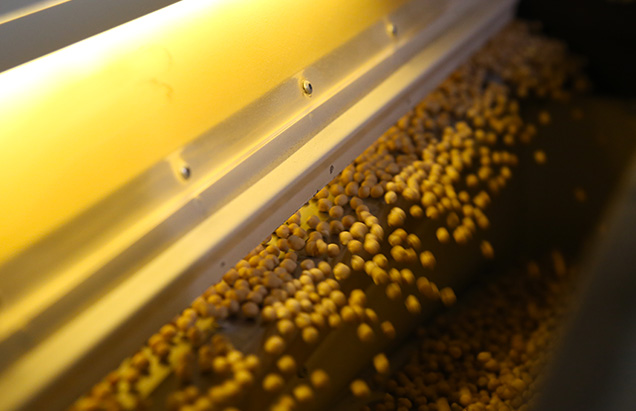 Processing
Quality and innovation are our priorities.
To obtain the best results, in B.M.S. we process organic products using the most advanced technologies.
Our facilities are equipped with a complete plant dedicated to legumes, seeds, and gluten-free grains processing and, in addition to the sorting and selection line, we have recently started the toasting, hulling and stone milling of gluten-free products.
Third-party orders will be carried out only with adequate planning and volumes.
Supply Chain Direct Control
B.M.S. boasts consolidated collaborations with more than 100 organic producers throughout Italy, mainly in central regions.
The products of our supply chains come from over 10,000 hectares of certified organic land, regularly selected and inspected by our team of agronomists, which provides technical know-how and supports farms in the planning and management of crops.
The choice of the right varieties for the different pedoclimatic conditions, the most suitable crop rotations, the constant control of the crops and the research for eco-compatible solutions guarantee the quality and consistency of the production, as well as transparency along the entire production chain.
In addition to direct collaborations with primary producers in Italy, B.M.S. has been collaborating, for over twenty years, with Italian companies specialised in the processing of specific products – such as grains containing gluten or dried fruit – and international partners dedicated to the import-export of "exotic" raw materials.
B.M.S. has recently obtained a license for direct importation from non-EU countries and consolidated its trading and selling of raw materials in bulk on the international market.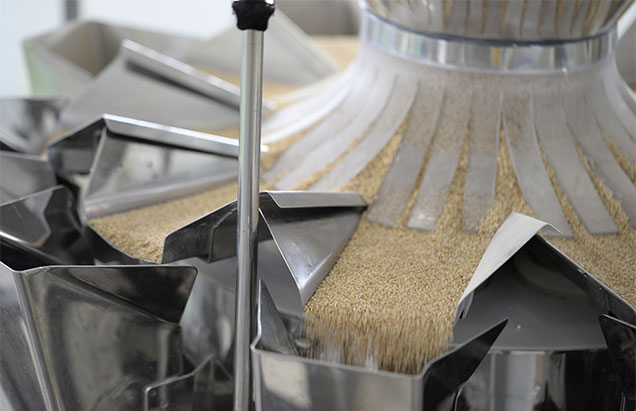 Custom Packaging
B.M.S.'main activity consists of custom branded packaging for organic food products.
B.M.S. presents a wide selection of dry products – grains, legumes, seeds, flours, sugar, dried and dried fruit, blends – and different types of customised packaging to meet the requirements of the most demanding customers.
B.M.S. offers multiple choices of packaging solutions.
The products can be packaged in different formats from 50 grams up to 5 kilos.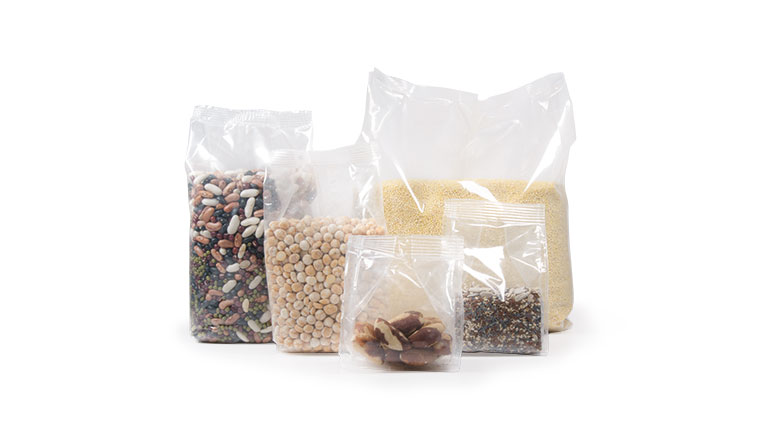 Packaging is available in a square or round shaped.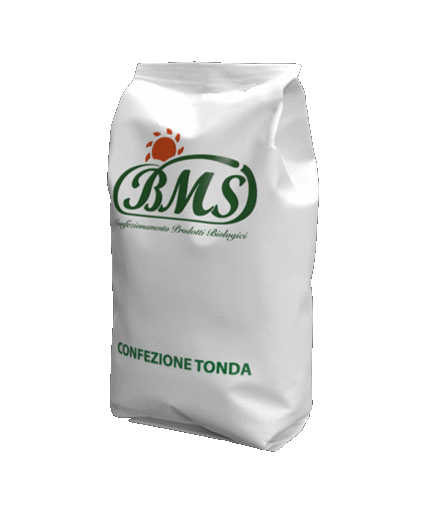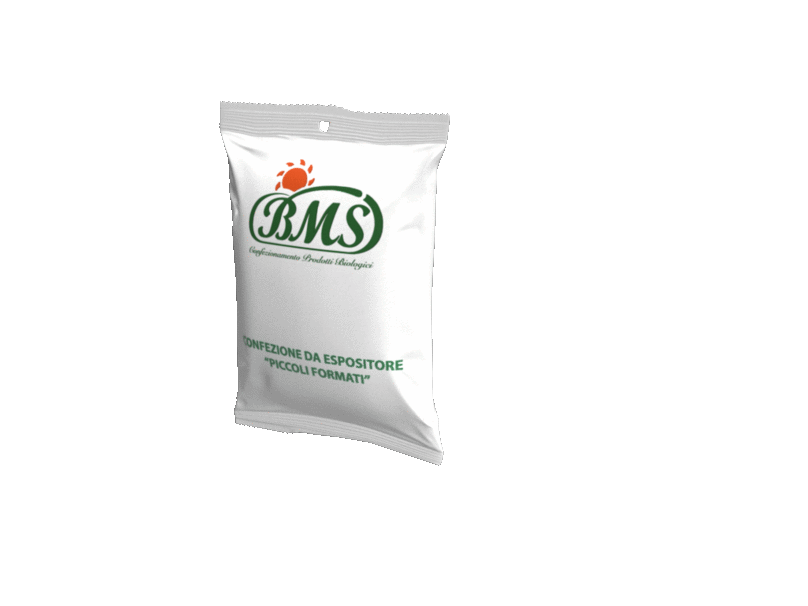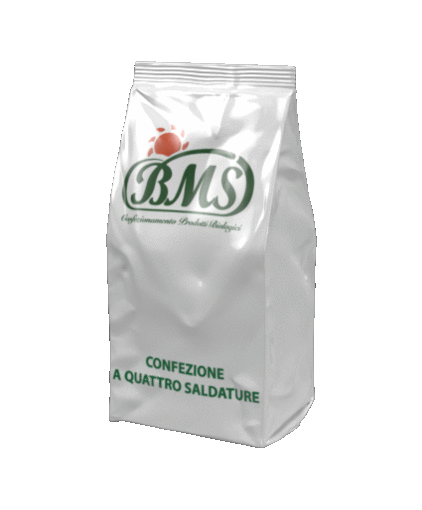 The round package presents two horizontal and vertical welds and a square based, assuming the typical "cushion" shape.
Round packaging without a square bottom is very suitable for small display formats.
Four-weld pack mains characteristics are a more defined profile and stronger stability.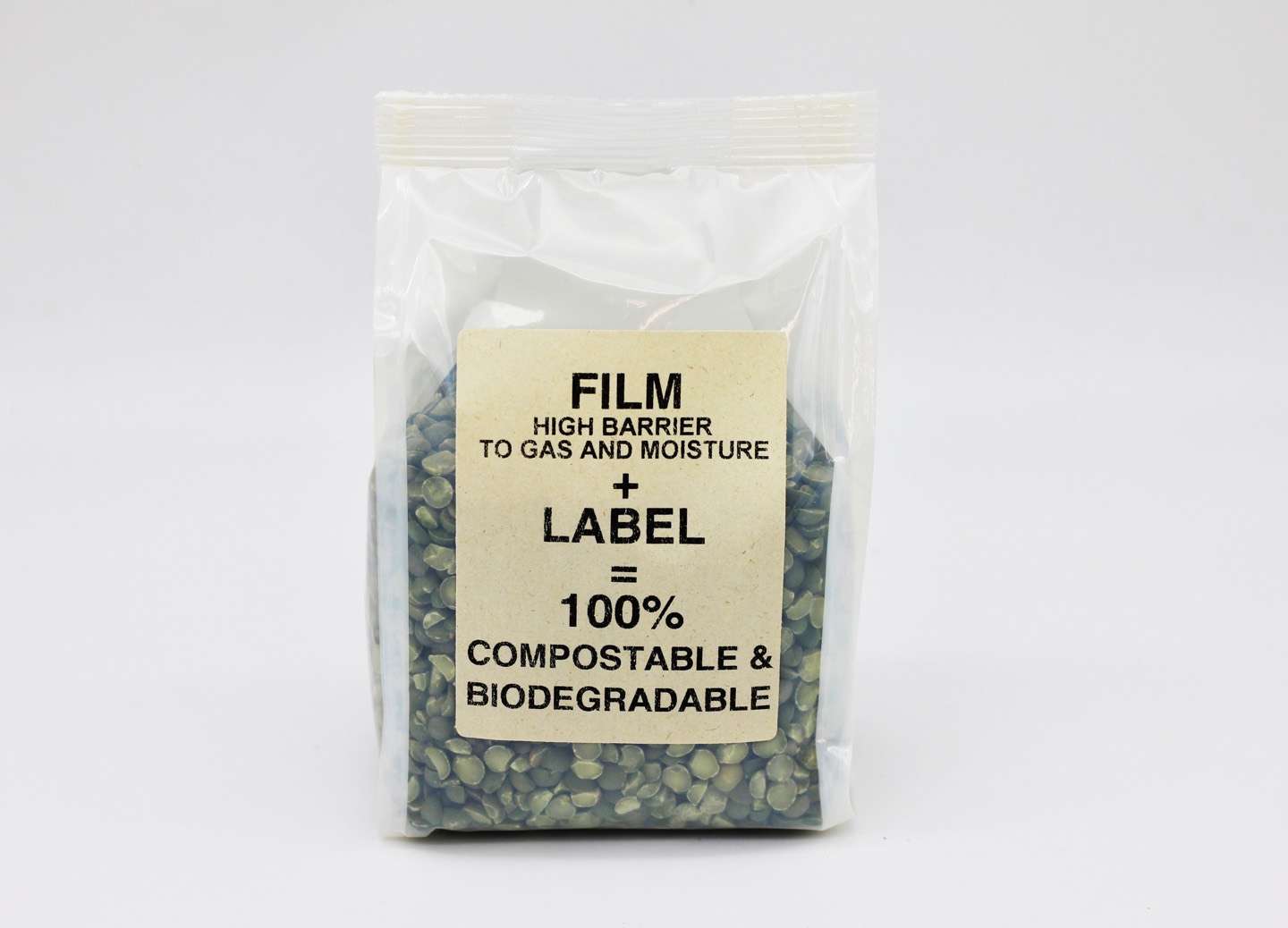 Compostable Packaging
B.M.S. chooses compostable.
B.M.S. chooses sustainability.
By using compostable films, B.M.S. once again chooses sustainability. The use of compostable films allows reducing the use of materials deriving from plastic and encourages a lifestyle to "zero waste". The compostable ensure high-quality standards and the perfect maintenance of the food it contains.
What does compostable mean?
A material is defined as compostable when it can disintegrate to 90% within 3 months of its disposal. Compostable material can decompose into simple, organic molecules, and transform into a fertilizer called compost.
What is the difference with biodegradable?
Any material that can be broken down by bacteria, sunlight and other natural agents into simple chemical compounds such as water, methane or carbon dioxide is defined as biodegradable. Therefore all materials are degradable. However, the decisive factor is the pace with which the process takes place.
For instance – a piece of glass takes over 4000 years to degrade while a plastic bottle takes up to 100 years. According to the European legislation (EN13432 of 2002), materials can be defined as biodegradable if they decompose in nature by 90% within 6 months maximum.
Compostable material is necessarily also biodegradable, but not the opposite.
Therefore, compostable is the most sustainable choice both from an ecological and hygienic-health point of view.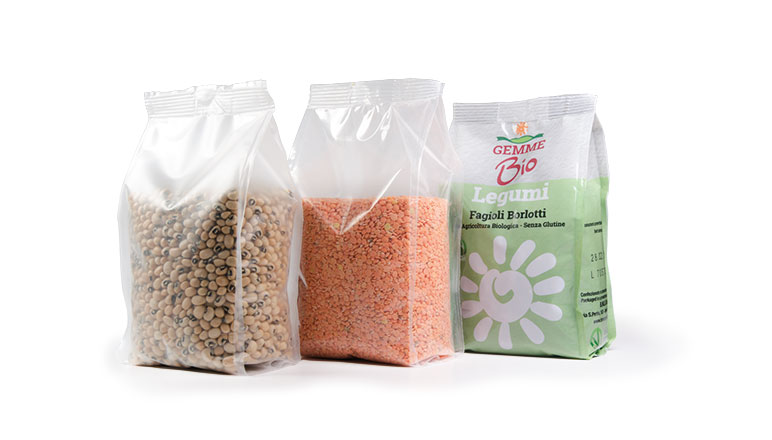 The film used to create the packaging can be transparent, mat or printed.
The transparent options are more suitable to enhance the product for the more visibility given to it, while the matted one is a more opaque film where the raw material contained is still visible.
The printed film gives the customer the possibility to custom the packaging with his brand design.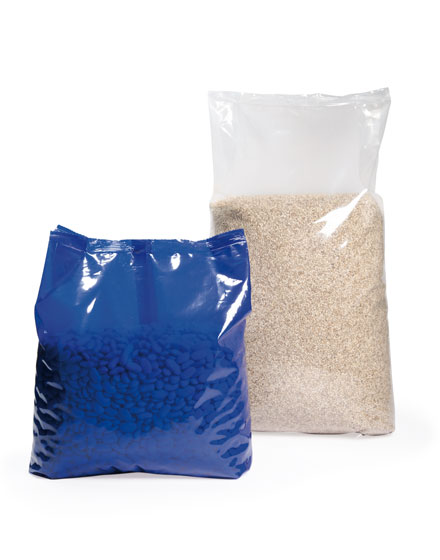 B.M.S. can supply 3kg and 5kg HORECA in PVC transparent or blue film packaging.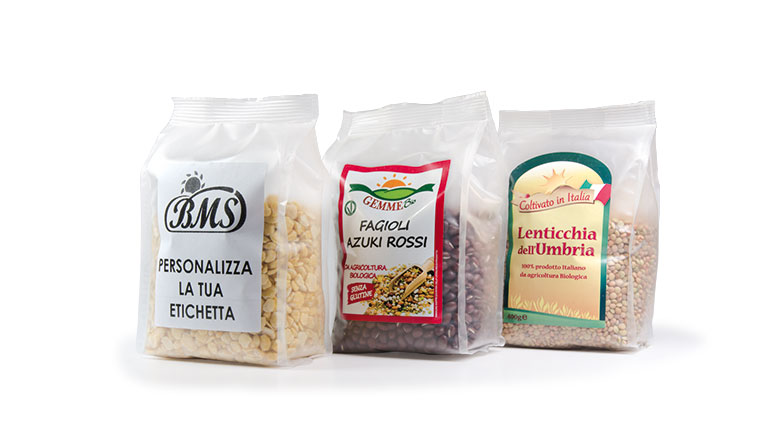 Packaging can also be custom labelled, both on the front and on the back. The labels, in paper or plastic and provided by our or your trusted typography, can be overprinted through monochrome thermal transfer printing.
In B.M.S. we use only the best quality film, suitable for contact with food following the current regulations and characterised by a strong barrier against gas and water vapour.
The packaging activity takes place in the controlled atmosphere, which – compared to packaging in a natural atmosphere – makes possible to extending products' shelf-life since the oxidative reactions and the development of microflora and aerobic are considerably slowed down.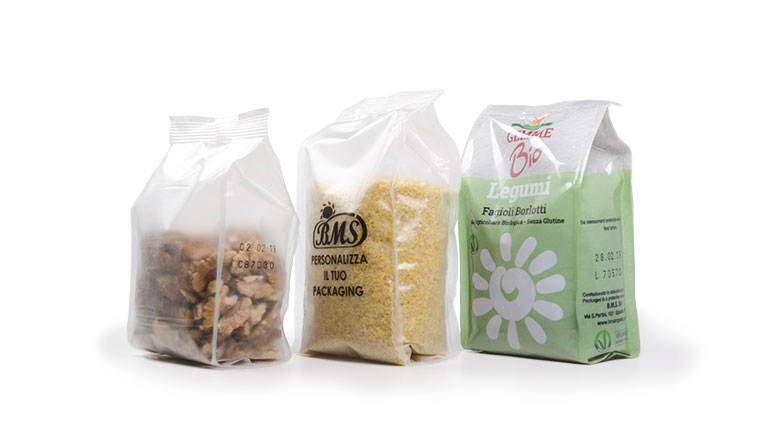 Our packaging machines are equipped with thermal transfer markers that allow printing directly on the film.
Last but not least, we place the packages inside corrugated cardboard boxes, on which we apply the logistic label, and, once accommodated on EPAL pallets, we pack for shipping to the customer.